When it comes to head shaving, finding the right shaver is crucial. Especially for those who frequently shave their heads; that would be most of us that have scalp micropigmentation (SMP). With so many options on the market, it can be challenging to choose the right one. That's why we at Elegant SMP have compiled a list of the best head shavers for bald heads in 2023.
While some people prefer traditional blade shavers, we recommend electric head shavers. They are more comfortable, practical, and safer than blade shavers. In fact, electric head shavers have several advantages over blade shavers. They are easier to use, especially for beginners. Most men find the process more enjoyable and less time-consuming, making them more likely to stick with shaving their heads.
It's essential to consider your needs and preferences when choosing a head shaver. There is no such thing as a perfect head shaver, but there is one that will suit your needs and have the fewest shortcomings. Ultimately, it comes down to personal preference, as some head shavers work better for some than others. Maybe clippers might be your thing.
We advise all clients that have recently received SMP treatment to wait at least 10 days before using any of these shavers on this list because they're a very close shave compared to our clipper recommendations and they may damage your SMP while it's going through its initial healing phase.
The following product links have affiliate links to Amazon at no extra cost to you.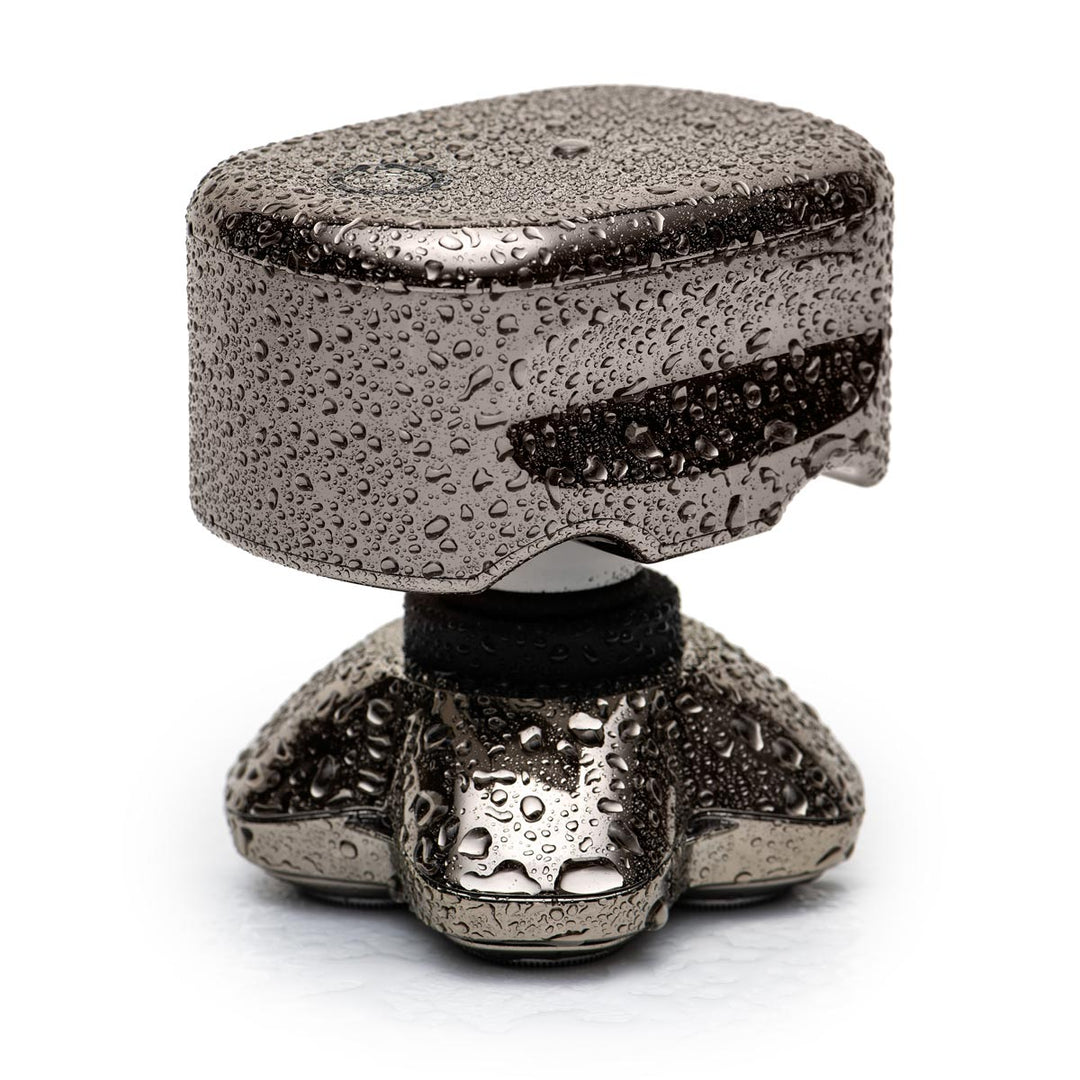 This electric head shaver topping our list is a top-rated product for its ability to deliver a close, safe, and efficient shave, making it the perfect choice for people who prefer a bald look or have opted for scalp micropigmentation. Its unique design effortlessly adapts to the contours of your skull, making it an easy-to-use option compared to many other head shavers on the market.
One of the standout features of the Skull Shaver Pitbull Gold PRO is its battery life, which lasts for more than 90 minutes on a single charge. This means that you won't have to worry about running out of battery mid-shave, making this a reliable product for anyone who wants to get a perfectly clean shave each time. Whether you are shaving your head every day or just once a week, this electric shaver delivers a consistent performance that helps you maintain your bald look or scalp micropigmentation without any fuss or hassle.
While there are many other electric shavers on the market, few are as good as the Skull Shaver Pitbull Gold PRO for head shaving and scalp micropigmentation. With its unique design, long battery life, and user-friendly operation, this product is a top-rated choice among people who prefer to keep their head bald. So if you are looking for the best head shavers for your bald head, be sure to check out this amazing product and experience the difference today.
The Remington Balder Pro (XR7000) is a top-of-the-line electric head shaver that delivers a close and comfortable shave, leaving your scalp smooth and free of hair irritation. It features a powerful motor that provides an efficient and fast shave, making it suitable for those with a busy schedule. The shaver's four-directional shaving heads adapt to your scalp's shape and contours, ensuring that the blades come in contact with every hair for a close cut.
One of the advantages of the Remington Balder Pro is its ergonomic design. The shaver is lightweight and easy to grip, thanks to its rubberized grip that provides a comfortable, non-slip hold. The device is also cordless, which means you can use it anywhere without worrying about cords getting tangled or limiting your movement. The shaver is waterproof, so you can use it in the shower, and it's easy to clean by rinsing it under running water.
The Skull Shaver Palm is an exceptional head shaver that provides an excellent performance for men who shave their heads. This shaver is especially designed for easy use on the back of the head, thanks to its good ergonomics. It is perfect for on-the-go and travel because of its compact size and easy maneuverability.
The shaver operates quietly to give you a peaceful and non-disruptive shaving experience. What makes the Skull Shaver Palm stand out is its flexible blades that deliver a seamless, clean and close shave, even on uneven surfaces. With this shaver, you can enjoy wet or dry shaving with equal ease and achieve a bare skin finish. It has a powerful motor that ensures swift performance while minimizing tugging, pulling or irritation.
The Skull Shaver Palm is not just affordable, but also gives you value for your money. It has a convenient blade removal feature that makes it easy to clean and maintain. The three rotary cutter blades make it convenient for facial hair trimming, and it saves users the cost of buying two different shavers. The shaver is one of the best in Skull Shaver's product range, surpassing the copycat shavers on online stores. It is built to last and is ideal for men looking for a comfortable, fast and efficient shaving experience.
The Remington HC4250 Shortcut Pro is an exceptional head shaver designed with unique features for a comfortable, effortless, and clean head shave. Its ergonomic design fits comfortably in the palm of your hand, ensuring easy access to the neckline, around your ears, and the back of your head. The clipper's curved stainless steel blades cut precisely and follow the contours of your head, providing a smooth shave without any pulling or snagging.
This electric head shaver boasts an advanced lithium power system that provides 40 minutes of runtime after just a 4-hour charge. Additionally, the device is washable, and its removable blade and integrated washout port facilitate easy maintenance and cleaning at any time.
The Remington HC4250 Shortcut Pro is an excellent head shaver that offers comfort, precision, and durability. It also guarantees a bald look, ensuring that people who want to achieve a bald style get a smooth and effortless head shave. Its unique features make it stand out among other shavers in the market, and its affordable price tag makes it an excellent choice for anyone in need of a quality head shaver.
The Braun Series 9 9330s is a top-of-the-line electric shaver that is also excellent for head shaving. Its titanium-coated middle trimmer captures even the shortest hairs, providing a close and comfortable shave. The shaver's 40,000 cutting actions cut every hair as close as 0.05mm, resulting in a flawless shave with just one stroke. The shaver is also gentle on skin, with 10,000 sonic vibrations that let it glide over your skin with ease.
One of the key advantages of the Series 9 9330s is its advanced battery, which lasts up to 60 minutes on a single charge. Also, the shaver is waterproof and can be used with shaving foam or gel for a refreshing skin feeling. The charging stand is also included with the shaver, minimizing the space you need in the bathroom and ensuring your shaver is always fully charged.
Overall, the Braun Series 9 9330s is an excellent choice for head shaving, especially if you already use a quality shaver for your face. Its powerful motor, close-cutting blades, and comfortable design make it one of the best foil shavers for the head. While it does not come with a cleaning station, it can be purchased separately and will work just fine with the 9330s shaver. If you want a high-quality electric head shaver that can also be used for your face, the Braun Series 9 9330s is definitely worth considering.
The Andis ProFoil Lithium Titanium Shaver is a top contender for head shavers, distinguished by its hypoallergenic and titanium foils that provide a close, comfortable shave. The specially engineered interlocking blades adjust to the scalp's contours, allowing for easy and comfortable usage. Additionally, the shaver's Li-ion battery provides over 60 minutes of cordless operation, eliminating the need for a power cord during shaving.
One of the shaver's primary selling points is its ability to cut hair exceptionally close to the skin. The razor is extremely lightweight, easy to grip, and very grabby, meaning that it will cut the hair effectively, even when gentle pressure is applied. The Andis ProFoil is preferred by many barbers due to the razor's staggering foils, meant to hold the hair and make it further easy to shave.
As with most electric razors, there are certain limitations. The razor only works well on short hair and may require extra effort to attain a clean shave, particularly behind the head. Furthermore, the Andis ProFoil takes longer to complete a shave than a product like the Series 9, which boasts advanced flexing foil cutters. Finally, the Andis ProFoil is not waterproof and requires a brush or a can of compressed air for cleaning, because it cannot be rinsed under running water.
When choosing the best head shaver for your needs, it's essential to consider all the factors, including the shaver's design, performance, and battery life. Each shaver has its unique features and benefits, making them great options for different needs and preferences. Finding the right head shaver for a bald head is crucial to achieving a smooth and clean look. With the options listed above, you can then choose which one will suit your needs. Just keep in mind that it's important to take care of your scalp after shaving, by moisturizing and using sunscreen to protect it from the sun.
However, for those who are looking to accentuate their facial features, consider scalp micropigmentation for your bald head. At Elegant SMP, our team of experts can provide a natural and youthful look to anyone who wants to showcase their bald head with pride. Our team is dedicated to providing the best service possible and we offer free 30-minute consultations for anyone who's interested.
By combining the best head shavers with scalp micropigmentation, you can enjoy a complete solution for achieving a nice 5 o'clock shadow look. Either way, if you're rocking the shaved-look with or without SMP, these options can help you achieve a clean, polished appearance that you'll be proud to show off. Just remember to use a good anti-shine product so that you don't blind anyone with your dome.