When it comes to choosing the best clipper for scalp micropigmentation, there are a few key factors you should consider. First, think about the specific size and shape of your head – do you have an oval or round head, or perhaps a narrow or wide shape? Different clippers work better for different shapes, so this is an important consideration.
You should also consider the type of blade that your clipper uses. Some blades cut hair very close to the skin, while others are designed for use on longer hair or thicker beards. For gentlemen that are rocking a shaved-look you want the cut to be very close or else you'll give away the "secret" to your SMP (and make sure to shave every 2-4 days). Finally, take into account any features that are important to you, such as an ergonomic design or a quiet motor.
In the end, there are many great clippers available for scalp micropigmentation, and the best one for you will depend on your individual preferences and needs. However, some of our top picks include the Andis T-Outliner, Andis Wireless T-Outliner, the Hatteker Electric Shaver, the BabylissPRO GOLDFX Outlining Trimmer, and the Andis 12660.
The following product links has affiliate links to Amazon at no extra cost to you.
This one is first on my list because of how affordable and durable the trimmer is in light of how frequently we have to shave our heads. It comes with a powerful electromagnetic motor which ensures even, clean and smooth cutting all the time.
The T-outliner Beard & Hair Trimmer has a powerful high-torque rotary motor with quality machines drive components to allow for professional-grade shaving at home. The Bump Free Technology prevents razor bumps and irritation by providing a super close, clean shave without over-cutting the hair. The carbon steel blades are durable and stay sharp longer than other blades, maintaining long term sharpness without pulling the hair. This all in one device is suitable for those that have scalp micropigmentation and are on a budget.
Features:
BUILD LIKE A BOSS – This trimmer is built to last with a solid construction that feels like it will last a lifetime. Plus, it's reasonably priced, so you won't have to break the bank to get a quality trimmer.
GET A CLEAN SHAVE WITHOUT RAZOR BUMPS – The diamond-finished T blades provide a bump-free shave without causing irritation or razor bumps. You'll be able to get a super-close, clean shave every time.
KEEP YOUR BEARD & HAIR TRIMMED – With this all-in-one device, you can trim your beard, hair, sideburns, and mustache with ease. Perfect for those that are lucky enough to grow a beard.
Andis Professional Corded/Cordless Hair & Beard Trimmer is a heavy-duty machine designed for professional-grade shaving at home. The high-torque rotary motor with quality machine drive components allows for consistent power with or without a wire, while the 7,200 SPM generates minimal noise and retains long-term availability. This is a cordless version of my first pick. The surprising thing about this trimmer is that even though it doesn't sound as powerful as the corded version, it cuts as good or even better than the original.
Features:
GET CLOSE CUTS – This trimmer is perfect for a close shave. With its deep tooth carbon steel blades, it can easily cut through hair without having to go over the same spot multiple times.
LONG LASTING BATTERY – The lithium-ion battery in the Andis trimmer is one of the best in the business. It can last up to 100 minutes on a single 1 hour charge and has a voltage of 100-240V.
WIRELESS POWER – This trimmer doesn't need to be plugged in to function. You can get consistent power with or without a wire, giving you more flexibility when using it.
The Hatteker Foil Shaver impressively offers a 2 in 1 trimmer kit that is intended to help you manage both short, dense hair as well as longer hair. This product shines when it comes to giving you the cleanest, closest shave possible. Since human hair tends to grow in different angles, this razor captures even the shortest hairs from various directions. Meanwhile, the hair trimmer efficiently deals with long hair, enhancing the overall shaving experience.
One of the key features of the Hatteker shaver is its LED displays. Both the shaver and hair clipper present user-friendly smart LED shows which display useful information like the battery percentage, travel lock symbol, and a washing reminder. It gives you all essential data at a glance, making it immensely user-friendly.
Its charging and usage features are certainly worth mentioning. The shaver quickly charges in just 1.5 hours and provides a non-stop 75-minute runtime, while the hair clipper boasts 180 minutes of use after a mere 3 hours of charging. The cherry on top is its ability to use while charging, courtesy of the USB cable.
Lastly, the Hatteker Foil Shaver Bald Head Shaver and its accessories offer uncomplicated cleaning thanks to its complete washability. With an IPX7 Waterproof, you can readily wash it under the tap, making it quick and easy to maintain.
Features:
GET THE CLEANEST CUTS – The ultra-thin blade mesh pre-trims hair for a close shave, and the sideknife can lighten head, sideburns, and even chest hair for an efficient experience.
SMART LED DISPLAYS – Not just powerful, but also smart, with a LED display showing battery percentage, washing reminder, and travel lock symbol, all at once glance.
RELIABLE BATTERY LIFE – With a quick 1.5 hours charge, it gives you 75 minutes of shave time, and the clipper provides 180 minutes after a 3 hours charge.
COMPLETELY WATERPROOF – With full IPX7 Waterproof, cleaning's a breeze. Simply rinse your razor and its accessories under the tap.
Customer reviews suggest that, compared to other pricier equipment, the Hatteker shaver delivers an unbeatably smooth bald shave and substantial battery life. Even with frequent use, some customers reported not having to charge for more than 2 months. However, some customers wished for a wider variety of trimmer guard sizes. Regardless, the overwhelming consensus is that it's worth every penny for the close, clean, and long-lasting shave it provides.
BaBylissPRO® GOLDFX Outlining Trimmer is an eyepleasing cordless and corded trimmer that features an exposed T-blade with 360 ̊ view. The DLC Titanium Ultra Thin Blade (FX707Z) can be replaced when needed. It has a high-torque, brushless motor that also runs at 7200 RPM for fast and efficient cutting. The Lithium ion battery will run for 2 hours on a single charge and the all-metal housing helps to protect the trimmer from damage during use.
Features:
DURABLE & LONG LASTING – This trimmer is made of high-quality steel which makes it durable and long lasting. The all-metal housing also protects the trimmer from damage during use.
GET THE CLEANEST CUTS EVER – Super quiet and powerful, this trimmer gives you the cleanest cuts with ease. The titanium-coated blade is ultra thin and sharp, making it perfect for all of your outlining needs.
SUPER QUIET – The BaBylissPRO® GOLDFX Outlining Trimmer is the first of its kind, featuring an exposed T-blade with 360 degree views.
FIRST OF ITS KIND – The 360 degree view on the exposed T-blade makes this the first of its kind! You'll be able to get into those hard-to-reach places with ease and make crisp, clean lines every time.
ZERO GAP TOOL INCLUDED – No need to worry about pesky gaps in your trimming anymore. This trimmer comes with a zero gap tool that will help you adjust the blade to perfection.
Andis Professional Master Corded/Cordless Hair & Beard Trimmer is an all-in-one device designed for professional-grade trimming at home. With its adjustable carbon steel blades, this trimmer can create crisp, clean lines and sharp edges on both hair and facial hair.
This trimmer is both corded and cordless, offering the flexibility you need for your regular grooming regimen. It's lightweight and compact making it user-friendly and perfect for anybody regardless of age. The device runs at a speed of 7,200 cutting strokes per minute, keeping noise to a minimum while offering consistent power.
One of the standout features of the Andis Professional Master Corded/Cordless Hair & Beard Trimmer is its adjustable blades. You can easily change the size from fine to coarse (000 to 1) to better cater to your personal grooming needs. These durable blades provide smooth hair/beard trimming across the entire body.
Its long-lasting performance also deserves a mention. Powered by rechargeable lithium-ion batteries, the trimmer provides an incredible 90 minutes of continuous use on just a 1-hour charge.
Features:
ADJUSTABLE & QUALITY BLADES – The trimmer comes with adjustable blades that can be tailored to your specific hair type and length. They're made from carbon steel for longevity and have sharp edges for clean cuts.
CORDLESS CONVENIENCE – Whether you want to use it with or without a cord, the Andis Professional Master Corded/Cordless Hair & Beard Trimmer offers consistent power.
HAND-FRIENDLY – At a weight of just 2 pounds and measuring 3.25 x 5 x 9.8 inches, this trimmer is lightweight and compact, making it easy to use and maneuver.
LONG-LASTING – With a charge of just 1 hour, this cordless trimmer can run nonstop for as long as 90 minutes. This high performance is supported by a powerful lithium-ion battery.
Customer reviews have solidified the Andis Professional Master Corded/Cordless Trimmer as a standout choice for professional barbers and everyday users alike. Compliments range from the product's game-changing performance for barbers to its weight and manageable noise level during operation.
It offers a superior grooming solution with a sleek and lightweight design that equally caters to barbers and individuals who opt to cut their hair at home. Whether corded or cordless, the device guarantees consistent power for crisp, clean trims, and is an investment that will last long in your grooming kit.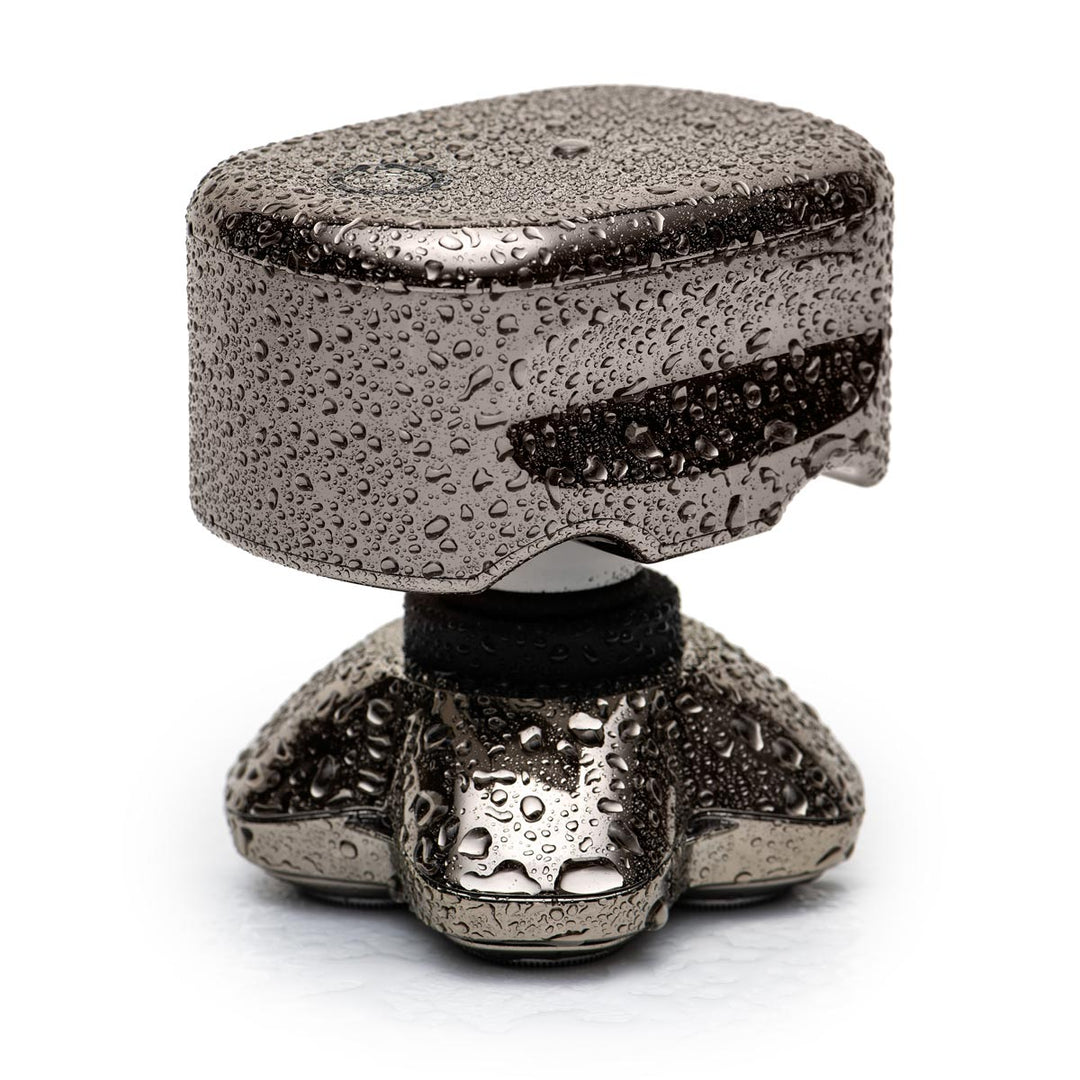 Looking for a hair shaver that won't leave your bathroom looking like a scene from a horror movie? Check out the Pitbull Gold PRO Head Shaver for Men from Skull Shaver. This powerful yet easy-to-use shaver is perfect for anyone who wants to get rid of their hair quickly and easily – without all the mess.
The Pitbull Gold PRO features a long battery life, so you can shave even the most stubborn areas without having to worry about running out of power. It's also completely waterproof, so you can use it in the shower.
Yes, I know this isn't a clipper but if you're looking for something portable then this is one of the best options out there.
Features:
NO MORE HAIR EVERYWHERE – It's a high-performance, cordless electric shaver that can shave any part of the body with ease without leaving a big mess.
REASONABLE BATTERY LIFE – This electric shaver has an average battery life of 60 minutes, which is more than enough time to complete your entire shaving routine. You will not have to worry about charging it in the middle of your shave.
EASY TO USE & CLEAN – This product has been designed with you in mind and comes with a cleaning brush and protective cap so you can keep it clean at all times. All you need to do is charge it, and you are good to go.
FITS ALL SKIN TYPES – This product is designed for men who want a precise shave without irritating their skin. It's perfect for all types of skin and will not cause any irritation or redness on your face or neck.
So, there you have it. Our top three hair clippers for scalp micropigmentation and a bonus head shaver. Whether you're looking for a corded or cordless trimmer, we've got you covered. Andis has some of the best machines on the market, while BaBylissPRO® offers innovative designs that set them apart from the competition. So why wait? Pick one of these great hair clippers today and start getting the perfect shave every time to make sure that your SMP continues to remain undectectable (remember to shave every 2-4 days).
If you're considering scalp micropigmentation or have already received the treatment, check out our other posts on the best moisturizers, anti-shine products, and sunscreen options to keep your SMP looking natural and protected. Our top picks are specifically chosen for those with SMP, ensuring that your investment stays looking great for years to come. To make sure you're equipped and ready no matter where you are, keep a foil shaver in your bag or the car just in case.
Scalp micropigmentation is quickly becoming the leading solution for hair loss around the world. Compared to other options like hair transplants or hair systems, SMP is a non-invasive, cost-effective, and long-lasting solution that provides natural-looking results. With the increasing popularity of SMP, it's important to stay informed and up-to-date with the latest products and techniques to keep your treatment looking its best.
In many cultures, physiognomy is the belief that a person's character or fate can be read in their face. By framing your face with a hairline tattoo that is unique to your features, you can take advantage of this knowledge and present yourself in the best possible light. Check out our post on the cultural significance of hairlines and hair loss to learn more about how SMP can enhance not just your appearance, but set the tone to how people may perceive you.
P.S. I'll continue to update this list in the future through recommendations but as of now, these are my go-to.